Hacking the Sigma EF-500 DG Super strobe : Sync port – part 2
In part one I described how I tapped into the electronics of my Sigma EF-500 DG Super to provide me with an access point to trigger the flash from a sync port.
In this post I will discuss how I added the actual sync port: physical mounting, and lessons learned.
What follows is my own documentation of what I did to my unit.I will not be responsible if you accidentally destroy your flash, or worse, hurt yourself: capacitors in the flash can hold their charge for a long time waiting for someone to poke them the wrong way.
WARNING: This hack will FOR SURE void your warranty. This hack also involves permanently modifying your unit. This hack involves a little soldering.
After looking at the flash internals for a bit (while looking for a suitable point to trigger the flash manually) I decided that the best place was on the foot of the flash. (later I found that it's not really the best place, but I'll get to that)
I drilled on the side of the foot, a 1/4″ hole to fit the 3.5mm mono headphone jack.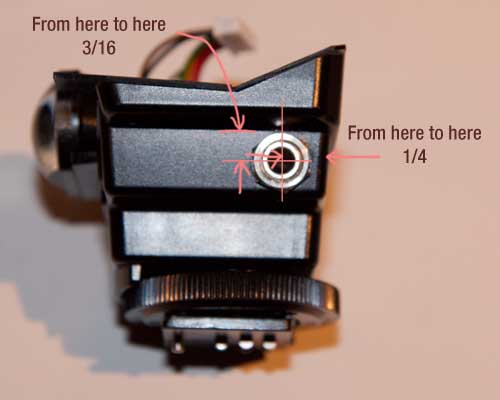 As I later discovered, this location is not ideal, since there is a mounting screw right above the sync port, and it makes it pretty much impossible to put that screw back in to put the flash back together fully.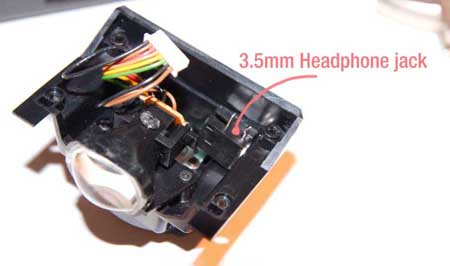 Here are photos of the whole assembly : sync port connected to the optical sensor.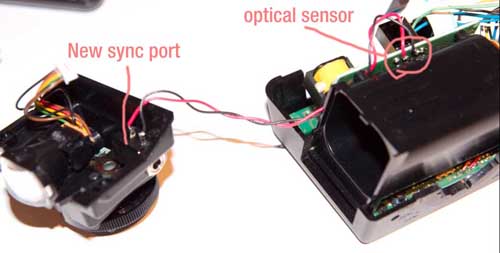 Well, that's it. I just have to start using the flash more now, which is really the hard part!