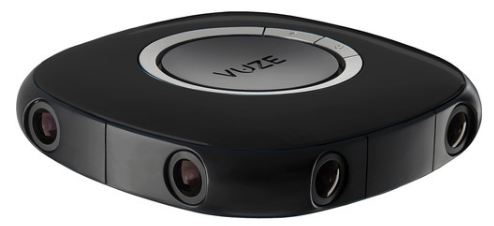 Spherical video is tricky. The process of stitching together multiple images to create a equirectangular projection image doesn't give you an exact image resolution. So what resolution should I be outputing my video to? Too low a resolution and you're loosing detail. Too high a rendered resolution and you're wasting bandwidth as no more details are created when an images is scaled up.
In using the new Vuze Camera from HumanEyes, I wanted to figure out what the ideal rendered output should be to maximize image quality and minimize file size waste. It's easy to output to 4096 x 4096 px and be done with it, but that resolution of is not easily playable by most devices today, and it may be a waste of bandwidth.
So the goal is to get a ballpark idea of what the final rendered resolution should be based on the data recorded by each sensor, in order to retain as much detail as possible from the raw footage to the youtube file as possible, in order so the viewing experience is as sharp as possible when viewed in 3D 360º, without wasting extra file size.
The resolution I came up with is 3200 x 2880 pixels. Read on to find out how I came to that conclusion.